Équipe retraite de la Villa Saint-Martin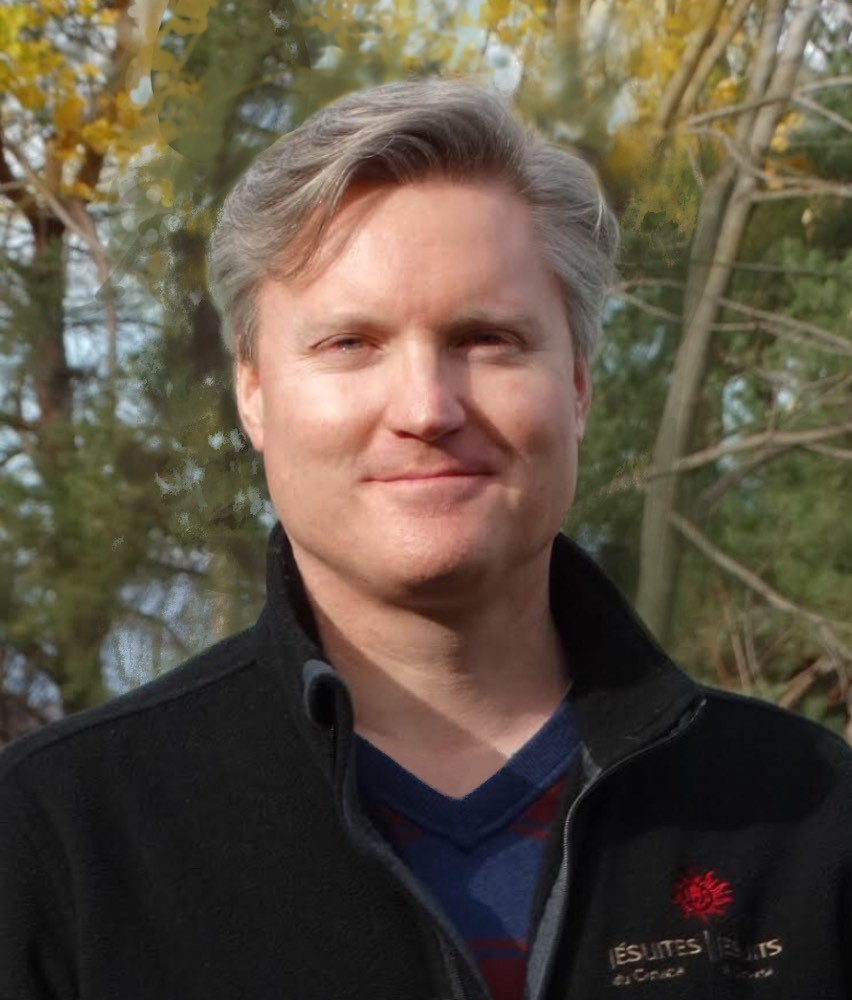 Kevin Kelly, S.J., grew up in Ottawa and entered the Society of Jesus in 2011 after working 12 years in a multinational pharmaceutical company where he held a number of leadership positions in Canada, the US and Europe. He was ordained to the priesthood in May 2020. Kevin is currently the Executive Director of the Villa Saint-Martin.
Kevin's interests include spiritual direction and retreat animation, integrating Ignatian spirituality into the business context, and working with those in recovery from addiction. Kevin is a member of the Ignatian Spirituality Project, a retreat program that supports those in recovery who have experienced homelessness.
Roch Lapalme, S.J., has been a member of the Society of Jesus since 1995. He developed, over the course of his Jesuit training, an interest in the practice of Ignatian spirituality which grew through personal or group spiritual direction and animation of retreats. He considers himself, not an "expert", but rather an "amateur" of Ignatian spirituality, according to the etymology of the word, from the latin "amator", "one who loves". He has been living and working at Villa Saint-Martin since 2017.

Trinh Ta, c.s.c., is a member of the Congregation of the Sisters of Holy Cross. She graduated in pastoral theology and visuals arts. Her passion is integrating artistic approaches into context of retreats and spiritual accompaniment, with the conviction that creative expression reveals the sacred dimension of poeple's lives and of the world and fosters the encounter with the Holy. In her views, the inclusion of the arts as the language of the soul in spiritual care has therefore its own transformative power where the newness of life is possible. Before joining La Villa Saint-Martin team, she facilitated workshops and retreats at La Villa des Arts de l'Ermitage for several years.

Catherine Holtzheyer, x.m.c.j., is a member of congregation La Xavière, Missionary of Christ Jesus.
Prior to joining the congregation, Catherine worked for 15 years in the field of Human Resources. After her vows, she discovered Ignatian pedagogy through a position as a formator in an engineering school in Toulouse (France), then through her mission at the Centre d'Etudes Pédagogiques Ignatien in Paris, a training organization serving schools under the supervision of Ignatian congregations. In 2014, she was sent to Canada to be superior of the community in Toronto and to study theology. Catherine has been working at Villa Saint Martin since June 2020, where she is in charge of the programming of retreats and spiritual events at the Villa.

Raj Vijayakumar received his bachelors in psychology from York University in Toronto, and has obtained a masters in the theological studies through the University of Toronto.  He is currently interested in the Spiritual Exercises of St. Ignatius and the union between psychology, philosophy, and theology.  He is a candidate with the Society of Jesus.
Équipe des opérations de la Villa Saint-Martin

Sylvie Baril is Director of Operations for the Villa Saint-Martin since 2017.With her team, she makes sure that all retreatants will have a comfortable stay. She has a background in tourism and management. For many years, she has worked in different hotels and resorts as room manager, sales & marketing manager and general manager.

Julie Lafontaine (Registrar) has enjoyed being on the Villa Saint-Martin team since December 2018. After over 20 years in pastoral ministry at her parish, with a focus on music and youth ministry, she now feels blessed to serve with the team at the Villa. Having completed the Exercises of St. Ignatius in Daily Life herself years ago, Julie is well equipped to witness to the benefits and joys of Ignatian spirituality to all those who call her to schedule a retreat. Julie considers it a great joy to share the gift of faith with those she encounters in her daily work.

Michelle Séguin. Retired Flight Attendant, Michelle has over 30 years of experience in customer service. She is happy to greet the retreatants with a smile and answer their needs to make their stay an unforgettable moment, in all serenity.

Ivon Bellavance provokes what he calls "sacred laboratories", occasions for artistic encounters that allow us to experience what for him is the science of God, that is to say, that loving weave that connects and relinks all beings and all things.
A recipient of grants from the National Arts Council of Canada and the Conseil des arts et lettres du Québec 2001-2002, he also created a work of integration with architecture for the Cirque du Soleil in Orlando (Florida) in 1998, participated as a guest artist in Robert Lepage's exhibition Métissage at the Musée de la civilisation de Québec 1999-2001 and taught at the Maison des métiers d'art de Québec at the Cégep Limoilou 2007-2008.
Having been a Jesuit from 2008 to 2018, he acquired a formation based on the "Spiritual Exercises" of St. Ignatius of Loyola and worked as a spiritual animator at Mother Teresa Middle School in Regina, Saskatchewan.
He currently works at La Villa Saint-Martin in Montreal.
Équipe élargie de intervenants et accompagnateurs spirituels

Dina Amicone is a spiritual director and supervisor associated with the Ignatian Spirituality Centre of Montreal, and a retreat director with Montreal Directed Retreats. Her past experience in ministry includes catechetical and youth ministry. An SNJM Associate, she is now a member of the Villa Saint Martin Retreat Team.</p

Fr. Peter Bisson, S.J.  is the assistant to the Jesuit provincial for Indigenous relations, which he does from Ottawa. When he was in previous leadership positions, he helped the Jesuits in Canada to move towards a relationship of learning and partnership with Indigenous people.

Richard Boileau is a strategy consultant; contributor to various journals; founding director of Crib and Cross Franciscan Ministries, which provides grief counselling and psycho-spiritual accompaniment, online reflections, missions and retreats. He has an MA in theological studies from Concordia University and a certificate in spiritual direction from Dominican University College in Ottawa.

Catherine Cherry. With backgrounds in Science, Teaching, Fine Arts, Theology, Psychology, and Spirituality; Catherine —mother, teacher, psychotherapist, and spiritual director— brings her love of people, life, praying, learning, growing, and especially her love of God, to the animation of retreats.

Elizabeth Koessler is an accredited spiritual director and part of the formation team associated with the Ignatian Spirituality Centre of Montreal. She presently a member of the Retreat team for the Villa St. Martin. She was the Associate Director of the Office for English Pastoral Services for the Archdiocese of Montreal for 10 years. She has a BA in Theology and a MA in Theological Studies from the University of Montreal. She also is a graduate of the Haden Institute for Spiritual Direction."

Marc-André Veselovsky, S.J. Marc-André is a Jesuit in formation currently working with Jesuit Refugee Service in Montreal. Originally from Ottawa, he has a passion for teaching, classical singing and helping people encounter God.